Mean Creek is a 2004 indie movie directed by Jacob Aaron Estes starring Josh Peck from Drake and Josh, Trevor Morgan, Rory Culkin, Ryan Kelley, Scott Mechlowicz and Carly Schroeder. It is a coming of age movie where teenagers plan to pull an embarrassing prank on an overweight, mentally challenged bully but things go completely too far and they have to deal with the consequences of their actions.
If you don't want to read the plot synopsis and want to enjoy the full experience without any knowledge of the plot, you can read the review below.
[Spoilers ahead]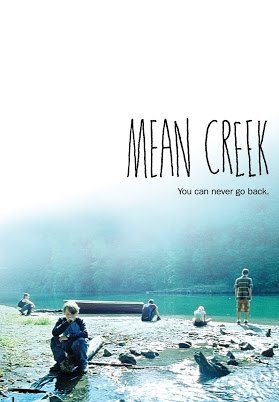 Sam gets beaten up by the bully George for touching his camera in school in front of everyone. Sam admits to his much older brother Rocky about the bullying. Rocky discusses with his friends Clyde and Marty about a plan to get back at George, Rocky later tells his younger brother about their idea. They host a fictional birthday for Sam and pull a prank on George. Sam likes the idea but wishes to get back at him without being like George, a bully. Rocky calls George if he would like to go with them to celebrate Sam's birthday, making an excuse that Sam actually likes him, George accepts.
Sam invites his girlfriend, Mille, out with them, unbeknownst of their plan. It cuts to George filming himself in the mirror, fiddling with the camera and changing the effects, causing a mirror within a mirror effect. He says "This is my private world". It is at this point the audience realises he is mentally challenged. When they arrive at his home, he gets in the car and they drive off, with Millie completely confused of why George is with them. George gives Sam a gift, a water gun. George acts all kind and polite but it is seen he doesn't know how to talk to people without coming off as rude.
When they arrive, Millie asks why George is with them and Sam explains it all. They're planning to do a truth or dare game and they'll dare him to jump into the river, naked, and make him run home naked. Millie finds it horrible and tells him to call it off. Seeing how nice George really was and realising it's not a good idea, Sam privately tells his brother to call it off. Rocky then tells Clyde about it and he's annoyed, wanting to get follow through with their plan.
But they decide to still go on the boat trip, still wanting to have fun and enjoy themselves. George asks why they don't have life vests and says it's pretty stupid to not have them. As they continue, George begins acting more like a dick to them. When they stop to have a quick lunch, Marty, a troubled teen, asks George why he beat him up a while back. George doesn't remember but insists that he must have done something to upset him. Sam points out that he has attacked people for no reason, George tells him to shut up.
They head off again. After some time, Clyde drops the anchor to begin truth or dare. Both he and Marty are on board and so is George. The others refuse but after George calls them faggots, they get on board. They play along, Sam and Millie are dared to kiss for thirty seconds, Clyde is dared to shows his penis but George sprays him with the water gun he got for Sam. Then George begins to annoy Clyde, repeating him. Clyde tells him nicely to cut it off and George then says "what are you my dad". This strikes a nerve and Clyde threatens George if he ever mentions his dad again he'll kill him. George apologises.
At this stage, Clyde tells him to jump into the river naked, continuing truth of dare. George says he didn't say anything about a dare, so Clyde tells him the truth of what they planned. George upset, he looses his temper and has a go at everyone. He has a go at Marty for his dads being gay and finds it disgusting. He turns to Clyde and tells him that he knows his dad shot himself in the head. He says he was quite upset about it when his mum told him but now, he found it funny. He repeats "his brains were splattered across the wall" over and over, angering Clyde. He tries to get at George, Rocky and Marty try and hold him back. Rocky then pushes George into the river for what looks like his own safety.
George cries out, struggling to stay a float. He whacks himself across the head with his own camera in his own panic and floats down. The others see he's not getting back up and begin to paddle forward. They see him on the shore. Millie does mouth to mouth but he's not getting back up. George is dead.
Clyde thinks of a plan to hide the body because they committed murder. Out of options or ideas, they bury him and go home. Out of guilt, Sam and the others get together and plan to tell George's mother. Clyde runs away and hopes to get to Mexico before they go through with their plan. Sam takes the police to where they buried the body.
This is an excellent movie. I wasn't expecting what this movie would turn into. The movie is like The Lord of the Flies where the children see reality is not truly a happy paradise and enter the grown up world. The acting is excellent, Josh Peck's acting is personally the highlight of the movie, even the kids acting is surprisingly great. This movie is a small movie, they don't go to many places and stay in the same places for long periods of time, this might be due to the budget or the script, but they manage to do a good enough job at keeping it engaging and enjoyable. The characters are very relatable and have depth, able to make you sympathise and care when everything goes down hill. The music is really good, it does its job for creating tension and atmosphere excellently. If you like teenager movies, this is the movie for you.
There isn't much to criticise this movie, all I can is go and watch the movie, you'll have a great time.