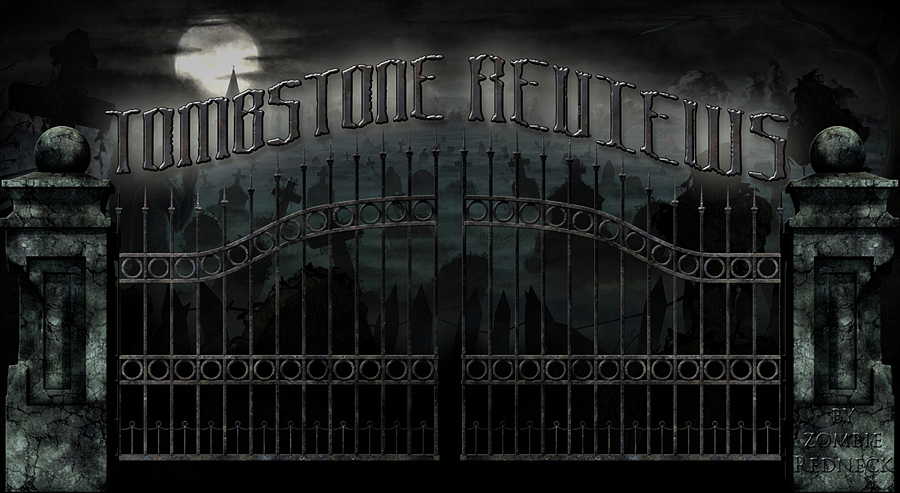 Greetings Folks
Its been a long time huh? But its that time of year again, where we all can sleep at night knowing some spooky goings on are taking place somewhere not too far from here. Sometimes with a hooked hand fiend, other times with a dream killing monster. I am of course your ghost in the host, Judge Redd (Formally ZombieRedNeck) here to bring you another review with a twist. See I have decided to modify my reviews a bit, but rather than tell you, I will show you. Today I have a rather old slasher film that pre-dates Halloween (which some consider the first slasher flick), and is in my opinion a must see for any Slasher loving fans out there. Ladies and gents...I bring you Mario Bava's 1971 slasher flick
"A Bay of Blood"
( also known as Carnage, Twitch of the Death Nerve and Blood Bath).
Trippy trailer aside, this movie is actually full of a lot of slasher cliches that would come to be known years later, and even has a rather interesting mystery once you get past some of the cheesy acting.
About the Movie:
This movie falls under Slasher and mystery but also shows a lot of the early aspects of slasher movies we have come to know and love (or hate if your not a fan). While at first, this movie seemed to garner disgust from critics due to its use of gore and violence in the murder scenes. However, since then the movie has seen great success and is considered a must see by slasher fans, a huge influence for the genre, and a high point of Bava's career. So whats this movie about then?
Movie Runtime: 1hr 24 mins.Basic Plot:
After an elderly heiress is murdered by her husband so he can control her fortune, he is then stabbed to death by an unknown attacker. What follows is an all out murder free for all, as her friends and family attempt to kill each other off to get a hold of that tasty inheritance. Oh...and some teenagers show up too who decide that the Bay is a good place to set up camp, especially in one of its old abandoned buildings.
Kills:
There is a fair number of kills in this movie, as well as the fact that they dont shy away from blood or gore. Of course we are not exactly subject to gore that is up to the standard of some of the more modern movies, but for its time it is actually very impressive.
Setting:
The movie takes place around a surrounding Bay and we run into several different characters that inhabit the area. None of which are unique to the Slasher genre. We have the horny teens, the creepy fishermen, the good natured adults, the spiritual character, and the scientific character to name a few. However its how these characters are utilized that really makes them shine.
Best Kill of the movie:
In my opinion this movie has some nice kills, including one done completely by accident by two kids. But the one that really stood out to me was the first kill. The old wheelchair bound woman is hung by her husband, and then he is stabbed to death. This was not the most unique death in the movie but it sets it all into motion as well as presents us with a false killer at first (I say false but he still did it) and then reveals there is in fact another psycho roaming around. It combines the horror element so well with the WHO DUN IT? element.
Unique scenes:
There is a scene that stood to me as a little unsettling. Its your typical "I found the bodies but their rotting" scene. However, unlike some movies where there might be snakes, rats, spiders, or facehuggers, this time there is a live octopus slowly moving across the corpses. I dont know why I found this scene as disgusting as I did, but for some reason it just made me feel off. Still thats what makes a good scene.
Personal Verdict:
Honestly, I found this movie to be okay, but then again I am spoilt in terms of slasher flicks. I sat down expecting the run of the mill story, but soon found myself with a very different kind of movie. A lot of the kills did obviously inspire future greats like Micheal and Jason kills, some being a bit more brutal than others. Take for example this scene that clearly inspired a future Friday the 13th kill.
Bay of Blood Scene (1971):
Friday the 13th Part 2 (1981):
You can see the similarities there, but thats not what makes this a good movie. What makes this in particular a good movie is its balanced mix of mystery and horror. While a lot of horror movies do mix mystery with horror, this one did a very good job of making what seems like an Agatha Christie style  story into a gruesome murder mystery that includes a family inheritance murder royal. Whats not to love?
Overall Rating: 8/10
While its nothing special compared to what we are used to today in horror, this was perhaps one of the movies that started the slasher genre. Before the genre really took off with the likes of Halloween. Its an interesting mystery that combines with the slasher genre in a very fluid fashion. Add in some bad acting here and there, some nudity and a rather intriguing story and you got yourself quite the film. You can actually find the full film on youtube if you have time to spare.
This movie is rated 18 or Mature for a reason. There is blood, gore (mild), sex and nudity. Anyone under the legal age shouldnt watch it.
I will be looking to try and do another review or two before Halloween, as well as do a little catch up with the back logs of requests I have gotten. Anyways, if you want me to review a movie of any genre, just comment below or contact me personally.