Some more stuff. And for those in the tl;dr crowd, Vault-Tec would've look after you better than the '50s American government.
So throughout the 1950s (1954-61) America performed an annual nuclear war drill throughout several cities called "Operation Alert" where people, both in managerial positions and general employees, were taught what they had to do in the case of nuclear war. It's your typical natural disaster drill stuff: evacuate the city, have police and emergency services maintain order, protect government officials etc.
To prove my point, here's a newsreel presenting the scope of the drill. Times Square was cleared during it, for example, so this was a pretty big operation:
Here's the thing though, the government didn't actually have any plans to protect the American people. To quote Guy Oakes again, (p.347) "Plans to insure the continuity of government were not based on the same principles that governed the civil defence program for the protection of the American people [...] The basic assumption of the national civil defence program was self-protection. Ultimately, every American family was responsible for its own survival. Thus the state was not prepared to spend federal revenues in order to secure the survival of the public."
We're talking Enclave-level disregard for human life here, in the sense that the government had no plan to actually protect its citizens. Government officials were the priority. The existence of Vault-Tec's non-experimental vaults in
Fallout
makes the Enclave government in
Fallout
more humane than the government of the '50s. Operation Alert was yet another publicity stunt. One that involved thousands of volunteers and millions of participants, but a well-publicised publicity stunt nonetheless, as it was to show the Soviets that the American people were "prepared" for World War III. I also really need to stress that nuclear war at this time was very much on the table. America's lead on nuclear weapon development over the Soviets made the prospect of using atomic bombs a very real option. To give some perspective, the Doomsday Clock bulletin placed 1953 at two minutes to midnight. The next big spike was in the 1980s when the clock was three minutes to midnight in 1984. https://thebulletin.org/doomsday-clock/past-announcements/   ( https://thebulletin.org/sites/default/files/1953%20Clock%20Statement%201.pdf ) (so aside from, ahem, 2018, 1953 was the closest we ever came to nuclear war).
The problem for the American government was that a nuclear war would actually bring about a paradox in the government's official stance on the Cold War. The point of nuclear war was that America was willing to risk it to protect American freedoms against Soviet totalitarianism. But if a nuclear war came about, those freedoms would have to be rescinded to maintain order. So the system that was supposed to protect American freedoms would result in turning America into a totalitarian state. As President Eisenhower relented in a cabinet meeting, June 1955, "No longer would only the armed services bear the brunt of war. Millions of homeless people would have to be sustained and helped and fed in soup kitchens and, compared with this responsibility, the objective of indemnifying property loss seemed rather insignificant. People will be lucky if their losses are only property — and not their own lives."
And finally, something that probably won't come as much of a surprise to people here, but Operation Alert wouldn't have actually worked. With each drill exercised it became clearer to both the Cabinet and Eisenhower that the operations practised by the drill made too many presuppositions. In that same June 1955 cabinet meeting, Eisenhower said, "All the ordinary processes by which we run this country will simply not work under the circumstances we have assumed here. Our great fundamental problem will be how to mobilise what is left of 165 million people and win a war." For example, how do you send the fire brigade around to put out fires when the roads don't exist, let alone a working fire service?
To end on a fun little
Fallout
-y bow, Operation Alert, the Alert America Convoy...all of that was to push the idea that the American way of life, specifically of this kind, could be preserved after a nuclear war:   http://atlantablackstar.com/wp-content/uploads/2015/11/white-america-1-e1448033371744.jpg
I'll leave it on that note as I gots stuff to do, but I'd be up for discussing this more if people are interested. And again, feel free to post your own facts and thoughts and whatnot.
EDIT: New Post thing: Hey everyone, meet Miss Miss Atomic Bomb.
In 1952 during Atomic Age fever, Las Vegas decided to combine the two most famous things about the city with a pageant, mixing showgirls and atomic bombs. The showgirl depicted here, Lee A. Merlin was crowned Miss Atomic Bomb in 1957 as the last nuclear pinup showgirl. I guess popular tastes for atomic bomb testings began to dissipate after people became more aware of their environmental and health hazards. Anyway, here are some more thorough details about the pageant: http://www.historybyzim.com/2013/03/miss-atomic-bomb/Honestly finding out stuff like this really gives you an idea of how thorough the
Fallout
series has been in capturing this period in its aesthetic and history.
https://niflheimmedia.files.wordpress.com/2017/06/img_1724.jpg?w=760
It'd be nice if I could flag the fact the fact that I'm making a new post but NEVERMIND!
I've had this tab open the last couple days and wanted to get rid of it, so say hello to your very own FALLOUT SHELTER! No not that kind of
Shelter
, I mean the one that will actually protect you from radioactive fallout. Whether you'd want to keep living in an irradiated world where the sun is literally hidden by black clouds for months on end is up to you, but nonetheless here it is!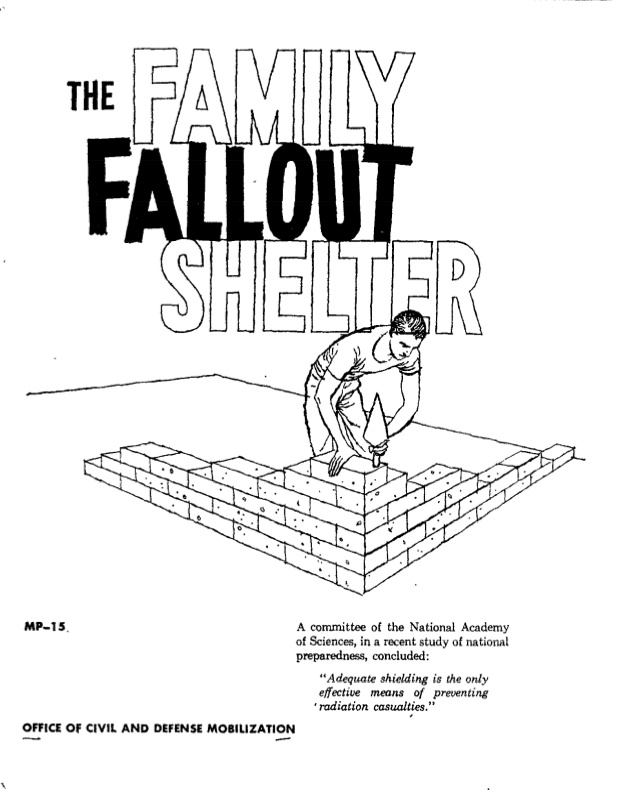 I mentioned pamphlets earlier being distributed by Civil Defence and didn't want to disappoint. There's just something so wonderful about some government guys in the 1950s explaining how to not die in the very real event of nuclear war. Enjoy!
https://www.slideshare.net/JTRourke/mp-15fam1959