@CodyA042
0/// Preamb :
keep in mind Fallout new vegas has been built to work as is and even if it is made to be moddable, due to numerous things begining by the game itself, each single mod you add is a source of potential conflicts or unstability, even if it is well done. So to be speaking, FNV should load, work well (almost) without any mod and...untouched. The goal of the following tips is to avoid you to reinstall everything from scratch and show you it is far more easy, (longer at first) to do things correctly at the begining, than trying to correct things later  with a bunch of mods installed.
Good hunting and don't give up.
1/// Savegames :
make sure autosaves are not activated and try to reload previous saves. You may have unintalled scripted mods and I'm wondering if, alike skyrim, scripts from uninstalled mods at mid-game stay in the saves. If it's the case, some of them can be"active" and call some parameters non available or something pointing to nowhere...like an uninstalled esp or esm...
2/// Game cache :
right-click on the game in your steam account, select properties and verify the integrity of the cache to repair eventual corrupted files. Make a save of your *.inis first...
3/// L.O.O.T / FNVedit :
Some load order changes are enough to make a mess. Ensure you run loot, (
download here
) and apply its recommendations. LOOT can tell you if you have dirty plugins = Undelete and Disable References / Identical To Master records. The UDR are important, because if a mod loaded "late" in your load order calls a deleted reference, the game crashes. If the reference in question would have been disabled, the game would have worked.
Install
FNVedit
then load the first esm in your load order corresponding to the first mod right after the DLCs, (only one esm or esp at a time, if an esm has an esp, you'll clean it when it will be its turn in the load order, to ensure thing are done sequentially and properly) FNVedit knows the dependencies and will load its masters accordingly. Once everything is loaded, right-click on the left pane right on the esm in question, "apply filter for cleaning", wait for FNVedit to prepare the cleaning. When ready, right-click on the esm in question and "undelete and disable references", (this will transform every deleted files in disabled files = no more problem) then right-click on the esm again and "remove identical to master records". Do this for each following mod to ensure everything is clean and so on.
I have for now 76 active plugins, and all are cleaned and I'm level 20, no crash so far...
Tes5edit cleaning tutorial
Do the UDR thing for every mod and the ITM only if loot tells you to do it because some mods are built like this and need these ITM, so better keeping them.
4/// Miscellaneous / selective loading :
If above doesn't work, and you encounter crashes and infinite loading screens again : test your game with mods unticked for enough time to reproduce the problem. If this worked, tick again slowly your mods until you encounter the problem again.
Ensure your rig specifications meets what you're asking to your game : high res textures + high poly models + too high settings + too many textures / models to load + resources demanding mods = crash. Be also aware that the recommended specifications corresponds to a vanilla game, non modded without any additional texture pack.
If you're using win8-10 + a GPU with more than 4GB VRAM and experiencing stuttering, random freezes or / and FPS drops, this may occur when the VRAM usage exceeds 4GB, (with Nvidia only apparently...)
read here
for more details.
5/// Mods / textures & models :
If this didn't work, always mods unticked, to invalidate the loaded loose files, (big numerous textures files can be a problem and high poly models too) rename temporarilly the
Data/textures and meshes
folders, load the game (don't use the continue option) and test.
6/// Inis settings :
Bad ini changes can cause lot of trouble, save your actual ini files and delete them, then use the launcher to auto-detect your hardware and test for a while mods unticked.
7/// Stabilizing the game / utilities :
- If not already been done, use
this
4 Gb patch
here
. (This one is up to date...)
- Install
New Vegas Anti Crash
.
- Install
New Vegas Stutter remover
.
- NVSE configuration, heap size, etc... --> see
WIKI tutorial
.
8/// Leveled lists :
Conflicting leveled lists can also be a problem, here are 2 solutions :
- Create a
bashed patch
. See
Nexus bash Tags & wrye bash patch here
+ (download urls for each Bethesda game).
- Create a manual patch : this is
how things work with conflicts
, leveled list can be forwarded manually with FNVedit, (drag & drop references)
see here
.
IMPORTANT !
If you add a master to a plugin, once done, click on "sort masters", this will force FNVedit to adjust IDs to the new load order. If you forget this step, your plugin is dead and once reloading it, you'll have a ton of <error can't resolve>. This means FNVedit/or the game will try to load 006ADF23 reference but as you've added a master, it has been renamed to  007ADF23.
Here is a tutorial
done by Thallassa, (much respect to her for all the work she has done to help people, on Reddit or elsewhere). If
you go visit her profile
on the Nexus, you can give her kudos, she deserve it. Same thing for
Mator the eternal
's
video fixing errors with xEdit
.
9/// Reducing load order / merging :
merging plugins :
My game count 76 active plugins, with a special esm loaded right after the DLCs and packs. The goal is to serve as a compiled base of modified references, forwarded by a special patch, (esp) loaded almost last in my load order. For the rest I use
FNV plugin utility
since Fallout 3, to merge every similar mod, considering heavy mods can be problematic, (scripts conflicts among other things)  and similar mods means PNJ, weapons, armors, etc... so that I know where to search things with xEdit and which plugin is supposed to modify NPCs, or ammos, etc...
How to : easy, extract the archive on a local drive and click on the FNVPlugin.jar. If you have everything for this program to work you should obtain this windows :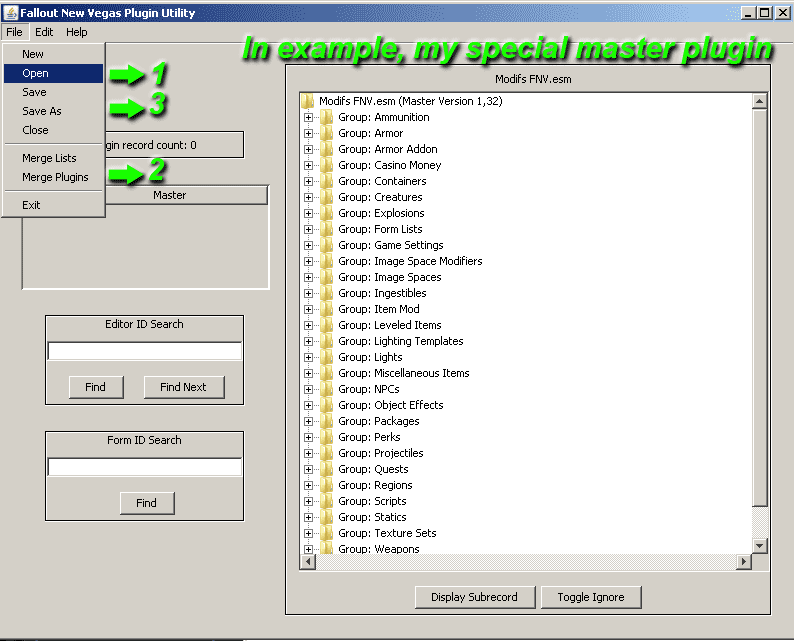 - Close your mod manager first to ensure it won't do stupid things while you're merging / renaming files.
- Make a backup of your 2 files you want to merge, (2 at a time maximum to ensure compatibility).
- Rename the first file to, (the one already loaded by the game and resident in your savegames) let say...0001 and load it in the FNV plugin utility
1
.
- Load the second plugin using the merging plugins command menu
2
.
- Save as : name your plugin exactly like the original name to not confuse your game while in a playthrough (and mod manager). If it was "FNVbasemods.esm" use exactly the same name with the same extension. Save
3
.
- Load your merged file along with the 2 original files in xEdit to compare and make a "check errors".
- Done.
10///
Documentation & articles
:
Nexus FNV Mod Conflict Troubleshooting
|
ENB troubleshooting guide
|
Hope this helps