...Time to list two of my biggest complaints. I've searched all over the place to see if there are any solutions, but alas; my fevered sserches have come up in vain. I'm loving this game to pieces, but it's always the small things in Beth titles that really get on your nerves after awhile. In my case, one of the first things I noticed is how garbage the default companion trade menus are.... solid as far as everything else goes; minus their outfit..?
1: Those Damn Invisible Outfits!
Yep.... so you go to trade your companion this badass piece of armor you just made for them, only for it to disappear the moment you equip it on them. Of all the things Bethesda could've been thinking (IE: Milk textures for splashes), they decided to go with a bizarre system of inventory management. The things you WANT to be invisible are not, and the things you DON'T want invisible are. Perfect example of this is the ever-cluttered Misc. menu in your Pip-Boy, which fortunately can be fixed with a little know-how thanks to lyravega's keyNuker & keyRing mod. However one thing I could NOT find was a mod or solution to fix the issue of Houdini-gear. Sure, your companion can always be equipped with another set of armor bringing the entry for the old one back from the ether, but what is the point when the new armor simply trades places?
Makes it rather impossible to do quick-management. Equipping them manually is a great feature and I love that, but wouldn't it have been easier to simply click the piece of armor from their inventory to retrieve it anyway? Same with settlers... I mean, their weapons don't suddenly pull a disappearing act. Why should the clothes? Would love to see this problem solved... might have to wait for the GE/CK though.
2: Bulls can't see red... but I can, and it's driving me mad!
That second issue?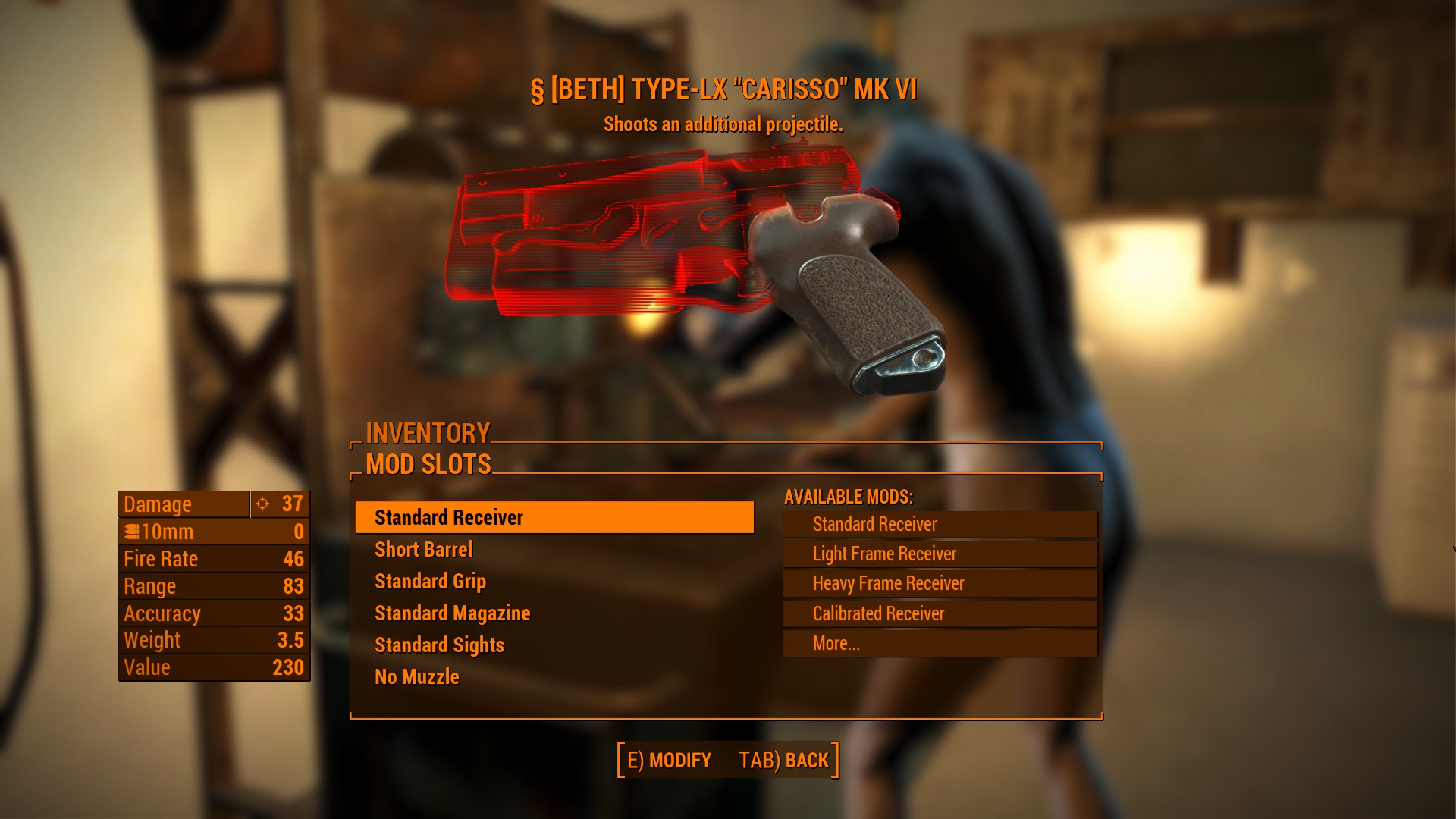 ...
...
...
...Yeah.
So basically we see red. Everywhere. With many new weapon and armor mods (Hell, even vanilla armor for crying out loud) either coming out, or having come out for our guilty pleasures; many of which having custom paint jobs, one would probably love to preview those changes. Whelp, you can't. You literally have to craft the item first before you can see what it actually looks like. No inspect feature... even a corner-based highlight would be an improvement, yet this red eyesore of an abomination has to dump all over the wonderful mod maker's work by obscuring what it is they worked on in the FIRST place. Shapes are easy enough to see, but those colors on the other hand...
Interesting thing to note is that the "red" you see isn't even your Pip-Boy colors either, as mine are actually an orange tint; evidenced by the text displaying the stats and etc. of the weapon itself. Would love to see this improved upon and/or gone.
402 hours strong, still going on... can't wait to see what the future has in store. I do wonder though.... since I'd like this little thread to be more productive than just a rant thread (though I would love to hear any other pet-peeves of the fellow GUN members here)... I thought maybe this could be used as a repository for solutions to those quality-of-life issues that may be out there, be it simple .ini edits, or full-on mods. Sadly, I can't really think of any aside from the one I hyperlinked (which I would HIGHLY recommend if you're sick of seeing 33 million+ items in your Misc. tab), so... yeah.
Wee.