Hey all, a while back I made a map of New California in Fallout 1 and 2 because I wanted to find real locations for every place in the games and the routes between them. I'm posting after deciding to on a recent thread
here
.
It bothered me that Fallout 1 and 2 had different locations for Mariposa, V13 and Shady Sands, so I found definitive locations for them based on the lore provided, and found a way to make both map's fit them within their borders. Like V13 being under Mt. Whitney irl, according the the survival guide. I also included locations mentioned in New Vegas, and a little 3/4ths of the NV map.
This post will be a little long, sorry if the images are large.
Vaults are blue dots (kinda hard to see, unfortunately) and settlements are red dots.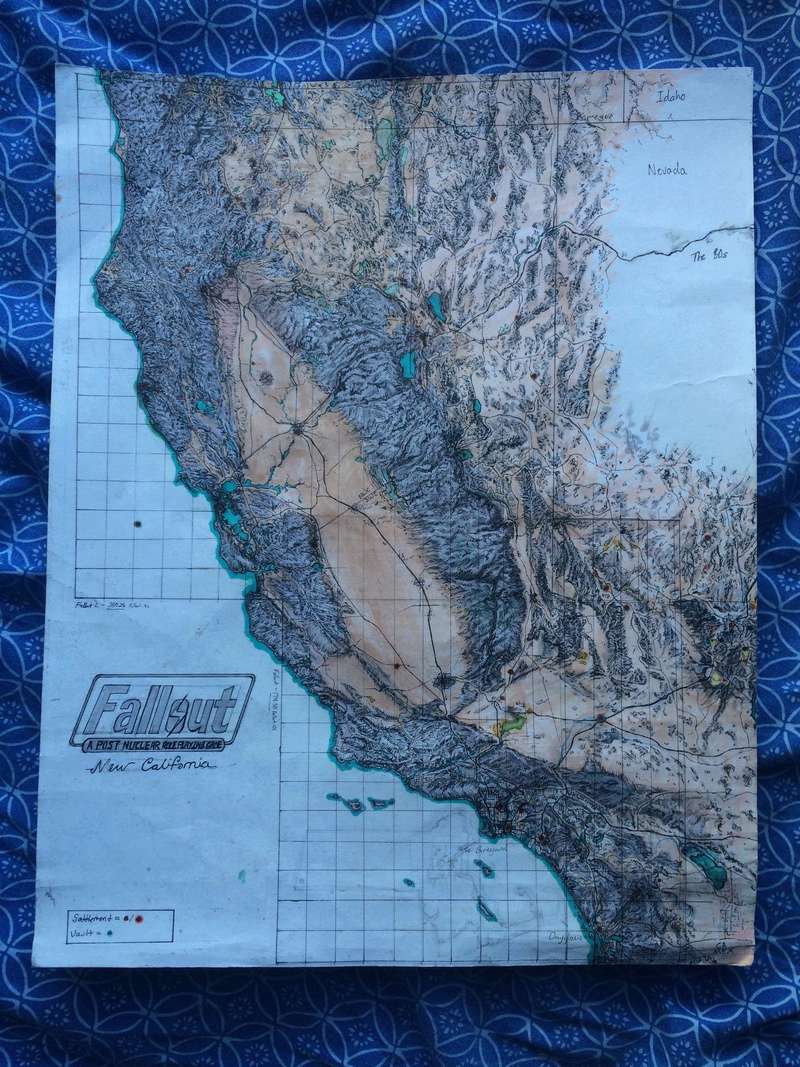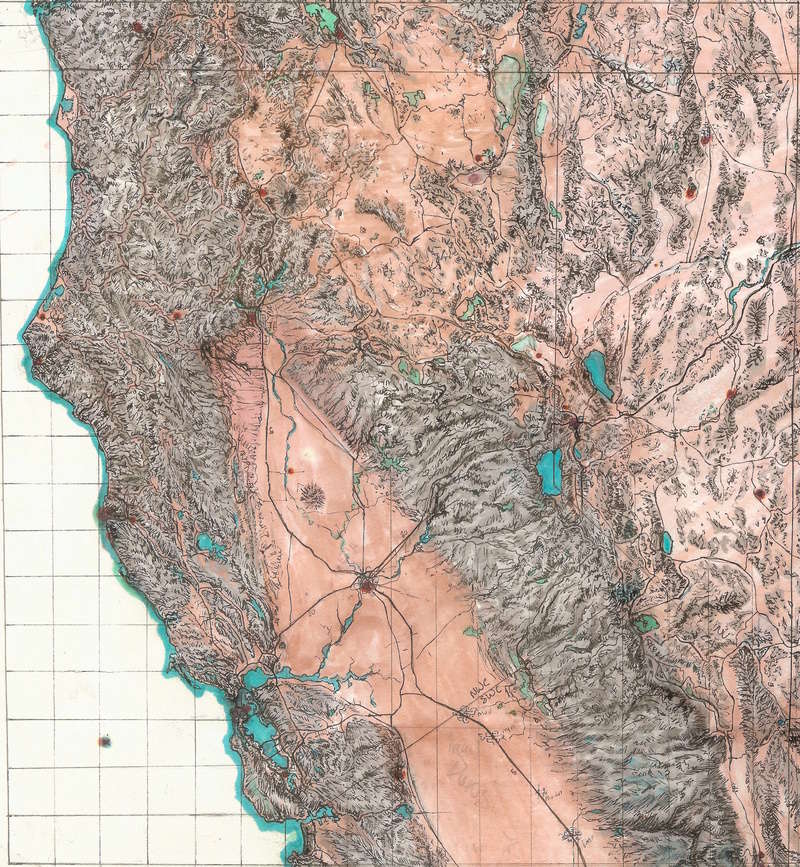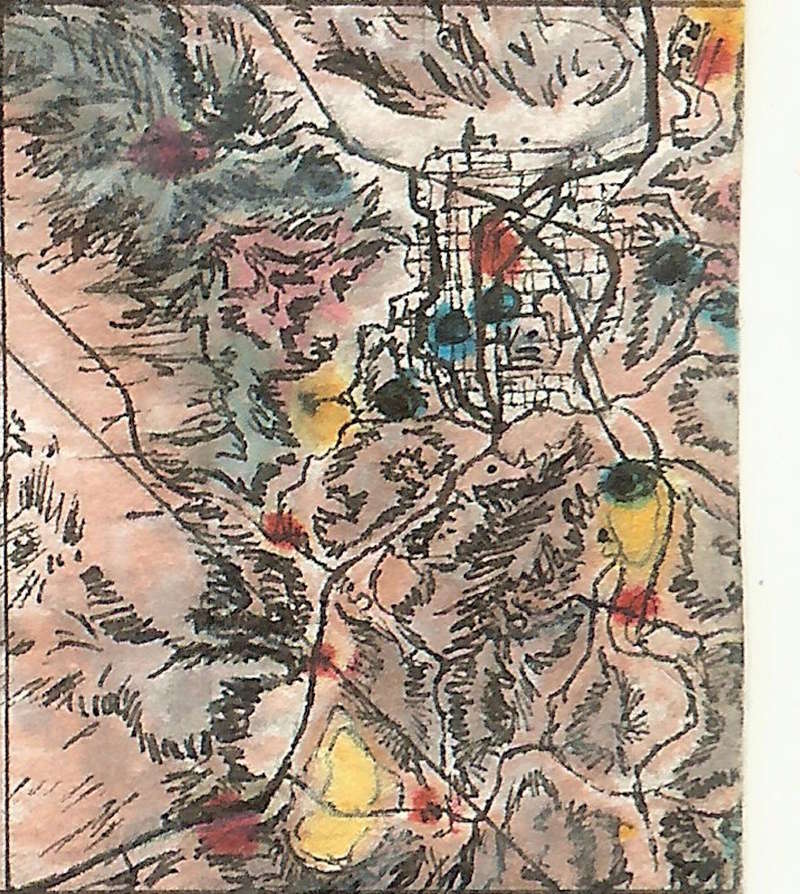 ---The locations IRL are this---
Vault 13 - Under Mt. Whitney, up in the Mt. Whitney Portal, CA (confirmed)
Shady Sands/NCR - Mesquite Flat Dunes, north of Stovepipe Wells, Death Valley, CA
Scorpion Caves - Daylight Pass Rd, in mountains, Death Valley, CA
Khans- Mesquite Flat Dunes, south of Beatty Junction, Death Valley, CA
Vault 15 - Off road a bit where Route 267 meets Route 95, NV
Junktown - West off of Route 14, north of Horse Canyon Road, CA
One Pine - Lone Pine, CA
Scrapheap - Near Sierra Trails RV Park, off California City Blvd and Route 14, CA
The Hub - Alternate History Barstow, a more developed town, on Interstate 15, CA
Necropolis - Bakersfield, CA
Lost Hills Bunker - Alt history federal site, around McJunkin Red Man Corp, Lost Hills, CA
Adytum - East Willow St, off of LA River, Wrigley, LA, CA
Library - Los Angeles Public Library, Financial District, LA, CA
Gun Runners - Alt History Industrial District near Sycamore Park, off 605, LA, CA
Irvine - Irvine, CA
Oak Creek - Irvine, CA
Dayglow - San Diego, CA
The Glow - West-Tek HQ between Santa Ysabel and Wynola, CA
Anza Borrego - Borrego Springs, CA
Mariposa MB - West of Gustine, off of i5, built into hills, CA
The Cathedral - East side of Carson, LA, CA
Aroyyo - In the Rogue River National Forest, vaguely around Knapke Gulch, OR
Klamath - Klamath Falls, OR
The Den - Weed, CA
Modoc - South end of the Modoc National Forest, close to Alturas, CA
Gecko - South end of fictional Gecko City, under Nevada Transportation Dept' office, on Nevada 140, NV
Vault 8 & Vault City - South of Gecko City, west of fictional road, built in boot shaped mesa, NV
Broken Hills - Broken Hills Mine, alt history with developed town, off of Nevada 361, NV
New Reno - Reno, NV
Sierra Army Depot - Sierra Army Depot, CA
Golgotha - Intersection of Arrowcreek Pkwy and South Virginia St, Reno, NV
Redding - Redding, CA
Tribal Slave Hunting Camp - Near Hayfork, CA
Sulik's Tribal Village - West of Loleta, CA
Sac-Town - Sacramento, CA
Monterey (Mentioned in Fo4) - Monterey, CA duh
Sunnyvale (Platinum Chip Source) - Sunnyvale, San Jose, CA
San Francisco - San Francisco, CA duh
PMV Valdez - At a San Francisco Eastern Pier
Hubologist Shuttle - South end of the Golden Gate Bridge, San Francisco, CA
Navarro Entrance - Navarro, CA
Navarro Base - Refinery, harbor and airfield at the mouth of the Navarro River, Shoreline Highway, CA
Oil Rig - The dot in the ocean, lined up south of Navarro harbor directly, Pacific Ocean
+ all the New Vegas Locations seen on the map
Note- I didn't put the Divide in near Route 127 because I'm not too sure where exactly to put it, there's a few contradictions.
And I even found the scene from the Fallout 4 Intro!-