Info Panel
________________
FO MOD MASTER THREAD
TES MOD MASTER THREAD
________________
________________
November 2017
| Mon | Tue | Wed | Thu | Fri | Sat | Sun |
| --- | --- | --- | --- | --- | --- | --- |
| | | 1 | 2 | 3 | 4 | 5 |
| 6 | 7 | 8 | 9 | 10 | 11 | 12 |
| 13 | 14 | 15 | 16 | 17 | 18 | 19 |
| 20 | 21 | 22 | 23 | 24 | 25 | 26 |
| 27 | 28 | 29 | 30 | | | |
Calendar

This question has been bothering me for awhile so i decided to bring it here so tell me guys star wars blasters vs fallout's energy weapons?

_________________
"At last we will reveal ourselves to the Jedi. At last we will have revenge."



Posts

: 27


Join date

: 2016-02-26



Your kinda comparing apples and oranges here just because their fruit.
One major difference is that Fallout has more variety in terms of laser guns. Fallout has Alien blasters, Plasma guns, laser pistols, Guase rifles, Holo-Rifles, Tesla Canons, even the sun itself.and pulse guns.
Aesthethically speaking, Fallout falls short, as the star wars blasters are just beautiful.
If this were a case of energy weapons Star Wars Vs Fallout, Star wars would win, as Lightsabers would fall under that category. However, as this is about blasters, Fallout is the winner under sheer variety.
However if this is about personal preference, then I would go with a mix of Jango;s blasters and the Fire Lance. Mix it up a little.



Posts

: 833


Join date

: 2014-03-12


Age

: 24


Location

: Ireland



Which are better, more reliable, easier to use, cheaper? Blasters. They're manufactured in quantities that none of Fallout's weapons could ever see. The technology for energy weapons in Fallout is, at that point, largely experimental and not in common use. Only laser pistols are accessible to the public, even then a gun is usually far more effective. The tech of Fallout weapons simply isn't anywhere near the level of blasters.
_________________
"Sheogorath is already inside each of us. You have already lost."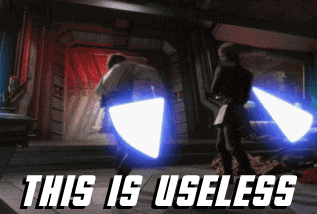 Posts

: 337


Join date

: 2015-05-25


Age

: 99


Location

: the Shivering Isles

Character sheet
Name: the Madgod
Faction: Daedric Princes
Level: 999


I'm with @"SpaceLord21" and @"ZombieRedNeck" on this one. Most blasters look much better than even the top-notch energy weapons and they do their job more effectively.



Posts

: 101


Join date

: 2014-07-09


Age

: 20


Location

: Coruscant



I have to say blaster since it fires solidify beam instead of projectile beam. I feel the projectile beam of laser rifle always have the delay time frame compare to blaster. Also, if both are automatic, then I feel blaster would have higher DPS compare to laser rifle. Overall, blaster definitely is a better choice unless you are a storm trooper.  



Posts

: 404


Join date

: 2015-11-01


Age

: 22


Location

: Somewhere on the Earth



I prefer Star Wars blasters just because they're more appealing yet still get the job done, and you don't have to reload as far as I'm aware. Fallout weapons do have their merits, as was previously mentioned they have variety but they lack in Appearance.
_________________



Posts

: 165


Join date

: 2016-04-13


Age

: 27


Location

: Slave 1



Just as it was mentioned before, Fallout New Vegas energy weapons will definitely win in terms of variety, by the reason that all of the Star Wars blasters, regardless of their manufacturer, uses the same kind of shooting mechanism, which is either a long laser beam, or lots of short laser beams.Fallout energy weapons are much more varied, because they are utilising such elements as plasma, electrical beams, holographic elements(holo-rifle), etc.In terms of apperarence, however, Star Wars blasters are better, but still at this matter each person has his/her own taste, so it is up to them to choose for themseleves.



Posts

: 279


Join date

: 2016-02-23


Location

: Central Europe



I personally like more the blasters from Star Wars weapons fallout energy of the universe, in terms of design of these weapons, and the ability to shoot bursts of short laser beams, even though everyone knows that this is contrary to the laws of physics

_________________




Posts

: 910


Join date

: 2016-02-08


Age

: 22


Location

: Gdansk, Poland

Character sheet
Name: Bronx
Faction: NCR
Level: 77


Although some Fallout's energy weapons are very powerful like the alien pistol and can disintegrate the target I prefer the Star wars blasters because there is a wide diversity of blaster in Star Wars and I love their visual appearance.
_________________



Posts

: 325


Join date

: 2014-12-13


Age

: 22


Location

: France

Character sheet
Name: Character
Faction:
Level:


---
Permissions in this forum:
You
cannot
reply to topics in this forum