Info Panel
________________
FO MOD MASTER THREAD
TES MOD MASTER THREAD
________________
________________
November 2017
| Mon | Tue | Wed | Thu | Fri | Sat | Sun |
| --- | --- | --- | --- | --- | --- | --- |
| | | 1 | 2 | 3 | 4 | 5 |
| 6 | 7 | 8 | 9 | 10 | 11 | 12 |
| 13 | 14 | 15 | 16 | 17 | 18 | 19 |
| 20 | 21 | 22 | 23 | 24 | 25 | 26 |
| 27 | 28 | 29 | 30 | | | |
Calendar

Page 3 of 3 •

1, 2, 3
Lonesome road in my opinion because I thought the story was pretty good.
_________________
"IF YOU AINT FIRST YOUR LAST" - Ricky Bobby



Posts

: 216


Join date

: 2015-01-11


Age

: 21


Location

: Charleston



This is difficult to answer

Old World Blues is often the first I rush to, since I often enjoy the bizarre elements of the Fallout franchise, however it was small and few npcs made it somewhat boring.

Lonesome Road, in terms of story I found it the best since it was a path about the courier, as if it felt like your destined to walk the path. Ulysses was also a true equal and very interesting character.

Honest Hearts, It was enjoyable, a vast canyon to explore (could have been bigger), also liked how it put your morality into question. It was interesting learning the lore of the tribes

Dead Money, Lore is intriguing but I didn't entirely find it that fun.

I suppose I would have to go with Lonesome Road
_________________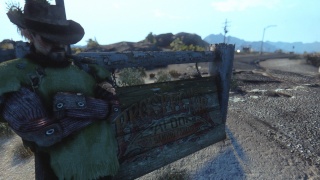 My Achievements:



Posts

: 61


Join date

: 2014-09-24


Location

: Tranquility Lane



My favorite was Old World Blues like many others. There wasn't anything really that I didn't enjoy. The best part however was at the very end of the dlc. When you walked in after you beat it and the entire room filled up with cheers and laughters. If that doesn't make you feel at home, than I don't know what to say. But it is definately where I will be hanging my hat after I finish with the Mojave.



Posts

: 38


Join date

: 2015-07-22


Age

: 22


Location

: Florida



well I should say honest heart, love the new guns (.45 auto pistol and smg) and reunion with yao guai



Posts

: 8


Join date

: 2015-08-03


Age

: 25



Old World Blues. It had a certain charm to it. Felt like a B movie from the 50's.
_________________
Molon Labe



Posts

: 133


Join date

: 2015-03-27



I liked all of them, and they were all brilliant in their own ways. They were very different from each other too - each experience was unique, so comparing them is quite hard. Honest Hearts had possibly the best explorable area, Zion was beautiful and I loved the Survivalist's story. OWB was the funniest, I was entertained through the whole thing and it had a really unique, wacky theme that you can't get enough of. Lonesome Road was very interesting in it's own way too, and it had hands down the best boss battle in the entire game. One that you can actually call a boss battle. The confrontation with Ulysses is up there as possibly the most epic event in the game.

But Dead Money takes the cake for my favorite DLC. It was brilliant - it was like a movie. I loved every character and their backstory, and how dynamic they were. It was full of tension and you had to actually scrape by to survive, it catches you off guard at first but it has that survival feel to it that you end up missing when you're done.

Most people, as did I, just get scared from the lack of supplies, amount of deadly obstacles and the difficulty that they try to finish it quickly and don't really pay attention to how brilliant the DLC and it's story and themes, most importantly, actually are. Once you get through the initial surprise and scare of the Ghost people and get used to reacting to the radios quick enough, you'll realize how great this DLC really is.

It really hit me the 2nd time I played it. You should definitely replay it. The Sierra Madre is one of the most interesting and memorable environments with a interesting story.
_________________
A secret message to the chosen ones:
Spoiler:

011010000111010001110100011100000111001100111010001011110010111101110111011101110111011100101
110011110010110111101110101011101000111010101100010011001010010111001100011011011110110110100
101111011101110110000101110100011000110110100000111111011101100011110101100100010100010111011
10011010001110111001110010101011101100111010110000110001101010001



Posts

: 785


Join date

: 2014-07-31


Location

: Winland

Character sheet
Name: Character
Faction:
Level:


For me is Old World Blues ,and is more of fun also an interesting plot, and even new weapons

_________________
"I will fight until my enemies without giving up before his eyes; nothing and no one can stop me because they are the great Prince of sayan. I represent the lineage of Sayan! "



Posts

: 413


Join date

: 2015-04-27


Age

: 19


Location

: Italy



Page 3 of 3 •

1, 2, 3
---
Permissions in this forum:
You
cannot
reply to topics in this forum