Info Panel
________________
FO MOD MASTER THREAD
TES MOD MASTER THREAD
________________
________________
November 2017
| Mon | Tue | Wed | Thu | Fri | Sat | Sun |
| --- | --- | --- | --- | --- | --- | --- |
| | | 1 | 2 | 3 | 4 | 5 |
| 6 | 7 | 8 | 9 | 10 | 11 | 12 |
| 13 | 14 | 15 | 16 | 17 | 18 | 19 |
| 20 | 21 | 22 | 23 | 24 | 25 | 26 |
| 27 | 28 | 29 | 30 | | | |
Calendar

ever since i installed my first mod i've always loved new weapons and armor and for some reason i just can't seem to get enough of them
i've used everything from muskets and blunderbusses to naginatas and swords to gauss pistols, the gauss revolver, and the plasma repeater and even the rpg-7, tommy gun, gas bombs, my fists (vanilla weapon i know well maybe not a weapon but still), pipe-bombs and stun grenades as well as other conventional weapons in my playthroughs of new vegas and i want to know out of all the modded weapons you've used in new vegas through all your playthroughs which one do you like the most? which modded armor do you like the most? my favorite modded armor has to be dragbody's Anger set. my favorite weapon how ever well... that's a tough one as i use all kinds of weapons in my new vegas playthroughs



Posts

: 2


Join date

: 2016-05-15


Age

: 21


Location

: Bristol

Character sheet
Name: Frodoe Gray Mane
Faction: Imperial Legion
Level: 130


I always start with Classic Fallout Weapons for the weapons. This is one of my favorite weapon mods because of the variety and distribution of the weapons. Millenia's weapon pack is good, but I don't use it myself, mostly because of a few duplicates from CFW and a little because I don't think the weapons follow lore and I'm lore hungry. For armor, Dragbody's Caesar's New Regime and NCR Ultimate Overhaul are essentials. Dragbody also has a Great Khan overhaul, which I've only recently used, and a BOS overhaul with fallout 4 ports, which I haven't used yet. Project Nevada also adds a nice touch to armor. For power armor, you could try Fiendish Power Armor, T-57 Power Armor, and T-60 Power Armor.
_________________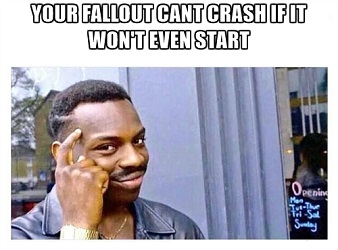 Posts

: 33


Join date

: 2017-02-15


Age

: 19


Location

: Colorado



I love "the voice" armor from Dragbody's splash armor pack. Just looks so sweet.
As for weapons... I really don't use many from mods. Currently i'm using the ferguson rifle from NVB I, which is just a trail carbine with more damage. I also use this lil devil replacer:
http://www.nexusmods.com/newvegas/mods/60170/?
I have very few weapon mods installed, as my favorite weapon (the survivalist rifle!) is already in game!!
_________________
Ummmmmm........ just wanted to say...



Posts

: 21


Join date

: 2015-08-07


Age

: 22


Location

: Surrounded by Dogs (totally not Denver)

Character sheet
Name: Moritz
Faction: NCR
Level: 1


My personal two favorite weapon mods are Classic Fallout Weapon and Weapons of the New Millennium.



Posts

: 500


Join date

: 2015-04-12


Location

: Kamino

Character sheet
Name: Fives
Faction: Grand Army of The Republic
Level: Alpha Arc Trooper


For weapons I have Master Shifu Aarius and Millenia all in my level lists for ttw

The most important clothing/armor mod i think is the spice of life
_________________



Posts

: 208


Join date

: 2014-11-11


Age

: 21


Location

: Texas

Character sheet
Name: Trajan
Faction: Caesar's Legion
Level: 69 Dude!


@CrackBabyJoe
aarius' guns are all crap, dunno why anyone would use his stuff. :/



Posts

: 1457


Join date

: 2015-06-07


Age

: 18

Character sheet
Name: -
Faction: -
Level: -


i like the spice of life armor mod, it at least give's you more clothing variety than the vanilla game.
as well as the ttw immersive armors, this also add a bunch of new armors as well.
for power armor's i prefer the T-60 by unoctiom and the T-45 replacement/standalone. the one that
the story teller uses.

as for weapons it depends. on what playthrough i am going.



Posts

: 206


Join date

: 2016-04-21


Location

: inside a cabin in the middle of nowhere.



I'd favor The enclave flight jacket. And Classic fallout weapons

Classic fallout weapons - Because It really brings the badass guns from fallout 2 and adds them to Fallout which is basically fallout 3 if it was made by black isle and interplay 

Enclave flight jacket - Because it looks so smooth. and I'M A REALLY big enclave fan. the armor and the designs for the enclave is awesome. and they've had alot of charming characters for example

Arch Dornan 
Colonel Autumn
Eden
Richardison
The Remnants
Arcade Gannon
Unamed Enclave soldier
F R A N K H O R R I G A N



Posts

: 80


Join date

: 2017-05-29


Age

: 20


Location

: Mom's basement



Literally anything with a boonie hat. I don't care what the armor is but I need a boonie hat!



Posts

: 151


Join date

: 2016-08-01


Age

: 20


Location

: United States

Character sheet
Name: Character
Faction:
Level:


---
Permissions in this forum:
You
cannot
reply to topics in this forum